Now Is Not the Time To Quit – Keep Your Business Moving Forward!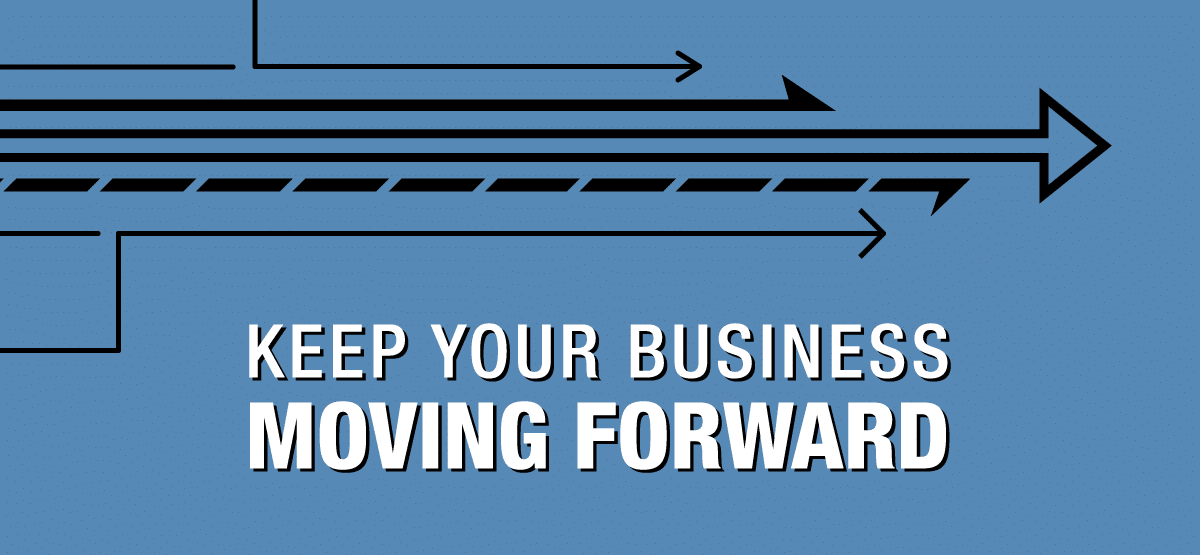 Everywhere you turn you are hearing this message: "We are facing uncertain times."  The COVID-19 pandemic has impacted the globe in ways most of us would have never foreseen. One thing is certain: the new decade is not off to a strong start for businesses worldwide, and none of our strategic business planning sessions held in the fourth quarter of 2019 prepared us for this. For some people, the natural response to this uncertainty is to stop. Stay indoors. Disconnect. Wait it out. If you are a business leader, I urge you to resist that temptation. We don't know what's ahead and the thing that will separate the businesses that close from those that survive will be the ability to adapt and respond to these turbulent times.
To help, here are some tips for keeping your business moving forward even through the difficult times:
Review Your Customer's Needs.
This is nothing new. Successful marketing begins with knowing, specifically, who your ideal client is, what their specific needs are, and how your company meets those needs. What is unusual in our current environment is the abruptness in which those needs have changed.
Ask yourself: "How have my customer's needs changed? How can I continue to support them in this unprecedented climate?  What needs to they have today that they didn't have in January? What questions or worries do they have that I can address?"  Use this information to evaluate your current work processes.
I've already seen examples of service adaptations from several of our current clients: therapists who are conducting their counseling sessions online, CPAs who are using customer portals to collect content needed to prepare tax returns, insurance companies who are writing and publishing content in greater volumes to answer questions posed by worried customers.  These companies are continuing to meet the needs of their customers while also solidifying their place as trusted providers.
Reconnect with Existing Customers.
Often businesses focus their marketing efforts on generating new leads from new customers. Even in good times, neglecting to engage with existing customers is a lost opportunity.  Reach out. Ask how your customers are doing and if there is anything you might be able to do to support them. Your current customer base is the foundation of your business. When we turn the corner weeks or months from now, people will remember those who extended an ear or a helping hand during the tough times.
Well….online anyway. Humans are social creatures. We thrive on connections. Physical isolation leads us to connect with others in different ways, and social media is the place where many people are spending their time.
People are looking for support and reassurance during this crisis. You can provide that to them while building deeper connections with your clients and prospects.  Use this opportunity to be a helper. Share a tip a week with your followers. Post an uplifting graphic or message of hope. Be a helper.
Take Advantage of the Opportunity to Work on Your Business.
Socially Present completes hundreds of marketing projects every year. A common theme we hear from our clients is "I've been needing/wanting to do this for some time now, but you know….time."  The daily grind often gets in the way of forward-thinking and progress. When we are consumed with working IN our business (e.g. the billable work that pays the bills), we often sacrifice the time we should be spending working ON our business (e.g. the activities that would improve our operations and profitability).  Use this opportunity to work on your business. Evaluate your sales and marketing goals.  Clean up your customer and prospect lists. Tackle the content you've been needing to write. Refresh your website. Create a social media strategy. Evaluate your product and service lines.
Set Reasonable Expectations
For many businesses, 2020 will not go according to the strategic plans that were created at the close of 2019. If your business doesn't distribute toilet paper and hand sanitizer, you may already be facing a slump in lead generation and sales this year.  Keep working your plans, adjust them to meet the changing needs of your customers and find ways to measure your successes in new ways. What activities can you perform today to improve the performance of your direct marketing efforts tomorrow?
When this pandemic is behind us – and one day (hopefully sooner than later) it will be – people are going to remember who showed up and who showed out. Show up for your clients. Be supportive. Do not exploit their vulnerabilities. Be a helper. Together, we'll get through these trying times.